MAKOR ENHANCES ERP PLATFORM WITH RESALE AUCTION CAPABILITIES

For Release: Wednesday, July 5th, 2023 – Minneapolis, Minnesota 
Makor Solutions is announcing a strategic partnership with ITPI to enhance the resale capabilities of the Makor ERP Platform with fully automated auctioning capabilities.  This collaboration is being done with the intention of enabling users of the ERP to expand market reach, sell quicker and more competitively.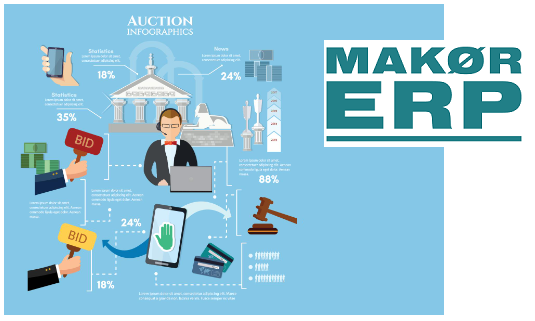 Customers of the Makor ERP will now be able to offer auction-based sales to sell inventory to specifically targeted buyers using the Global Auction Link Module. The "Sell-Power" Program offered in the module is custom-tailored to provide ERP customers with the ability to define which buyers are invited to bid on which inventory products.   
"The challenge with traditionally selling wholesale products to multiple potential buyers is the overhead of managing the bid lists, the bid responses and there is no feedback loop to notify a buyer that their bid was upped by someone else to give them an opportunity to increase their bid price. This whole process is now fully automated with the integration of ITPI product into the Makor ERP" said Makor CEO Mark Chodos. 
"For Urban the Global Auction Link Module has saved us countless hours when having to get wholesale bundles out to our wholesale customers in a timely manner. The ease of use and transparency of the platform is impressive and provides our wholesale clients with complete confidence in a level playing field auction, so they see exactly what they are buying with no second guessing.  The level playing field is crystal clear every step of the way" said Stuart Pixley, Head of Sales, Urban Technologies. 
Mark Myers, President of Intrinsic stated, "Intrinsic is pleased to partner and work with Makor ERP, one of the ITAD industry's leading ERP solution providers, to bring the benefits of the Global Auction Link Online Auction Platform to Makor's customers."    
For information and a no-obligation demo, click https://globalauctionlink.com/erp/makor.html