Introducing AI-Driven ITAD ERP 2.0
Makor Solutions, a leading provider of ITAD ERP technology solutions, is announcing the launch of its groundbreaking AI-driven ITAD software at the ITAD Summit 2023.  This revolutionary software aims to transform the landscape of IT Asset Disposition (ITAD) by leveraging the power of artificial intelligence to streamline processes, enhance data security, and drive operational efficiency.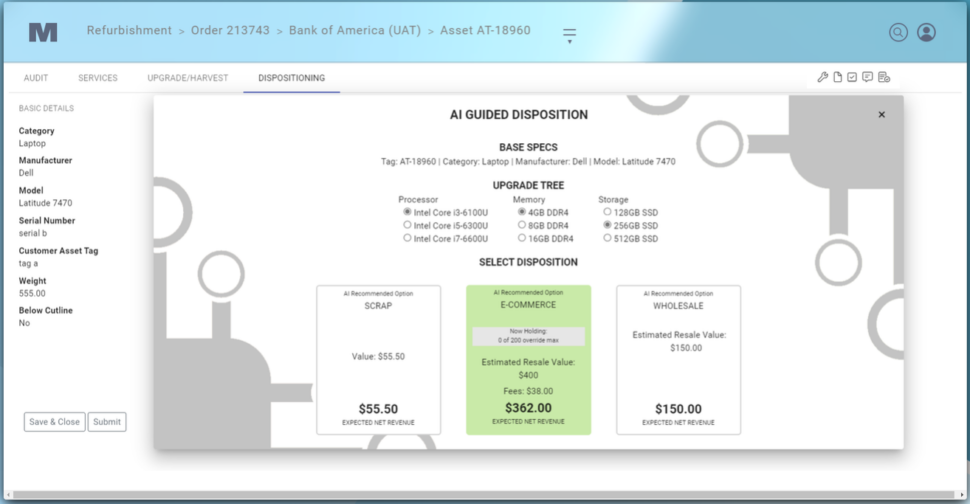 Key Features and Benefits of the first release of Makor ERP's AI-Driven ITAD Software: 
Efficient Asset Valuation and Remarketing: By leveraging AI algorithms and real-time market data, the software provides accurate asset valuation, enabling organizations to maximize their return on investment. It also streamlines the remarketing process, facilitating the optimum channel for resale of refurbished assets and reducing unnecessary waste. In addition, the ERP provides valuable insights into upgrade options, cost optimization opportunities, and reserve inventory channel decisions. This data-driven approach empowers organizations to make informed decisions and drive continuous improvement. 
"We are thrilled to introduce the first iteration of our AI-driven ITAD software to the market. This is not a one-time achievement but an ongoing evolution of how we build our software to automate the manual tasks associated with the ITAD process. This will not be achieved by ourselves only – this is a partnership with our partners and our customers. Our goal is to build and partner with best-of-breed technology so ITAD organizations can leverage the power of artificial intelligence to simplify operations, enhance sales and remarketing, and achieve greater sustainability" said Makor CEO Mark Chodos.